Concert April 22nd!
DEIXO
Montpelier, Vermont -The Cerutti-Reid duo featuring two highly talented classical musicians in Central Vermont is set to captivate audiences with the Vermont premiere of 'Deixo' by DC-based composer Douglas Boyce. The concert will be held at the Christ Church Montpelier on Saturday, April 22nd, at 7:30 pm. 
The Cerutti-Reid duo, comprising pianist Alison Bruce Cerutti and violist Elizabeth Reid, has built a following for delivering stunning performances that showcase their exceptional musical abilities. They have collaborated as a duo since 2004, performing concerts in Vermont and Canada, including the Stowe Performing Arts, Brandon Music, Norwich University, the Canadian Music Centre, and Gallery 345. The duo has been heard on Vermont Public Radio and CBC Radio various times, performing music of Rebecca Clarke, Johannes Brahms, and David Jaeger. 
"We are excited to perform Boyce's sonata for the first time in Vermont, and with the composer in attendance," said Elizabeth Reid. "The piece is fantastic, and we can't wait for audiences to hear it."  
The composer Douglas Boyce writes about 'Deixo': "The sonata as a concept has a rich history, serving as a core component of many instrumental repertoires. 'Deixo,' on the other hand, is an obscure term from ancient Greek rhetorical philosophy, in the focus of attention that a persuasive argument brings to a previously unnoticed feature of an opposed argument. This is the rhetoric of challenge, of arguments that are forcibly delivered and are held fast. Musically,  the work connects to the heroic sonata of the 19th century, technically and physically challenging, a joint project in which the performers and composer seek the surpassing excellence that guaranteed great warriors the immorality they were due. The work is in three movements: an expected sonata-allegro, with themes, recapitulations, and development; a sepulchral ostinato, and a furiously mechanical dance, as the agile clockwork of an elegant duel, beautiful and dangerous at once." 
Along with "Deixo," the duo's concert will include classical masterpieces and contemporary works, including the Sonata in E-flat major by Johannes Brahms, Fratres by Arvo Pärt, and solo viola music by Max Reger and Joan Tower. 
Tickets are available at the door, the house opens at 7 pm. 
General Admission: $25  
Under 18 and Income Challenged: FREE 
For more information on the concert and about the Reid-Cerutti Duo, please visit: 
https://elizabethreidviolist.com/cerutti-reid-duo 
For more information about Douglas Boyce: https://www.douglasboyce.net/bio-2
CERUTTI-REID DUO
As the Cerutti-Reid Duo, pianist Alison Bruce Cerutti and violist Elizabeth Reid celebrate seventeen years of their musical partnership in a series of concerts around Vermont. They have performed in Vermont at the Barre Opera House, Brandon Music, Norwich University, and Vermont Public Radio and performed in Canada numerous times.  Alison and Elizabeth are founding members of the celebrated Vermont chamber group, the Northern Third Piano Quartet.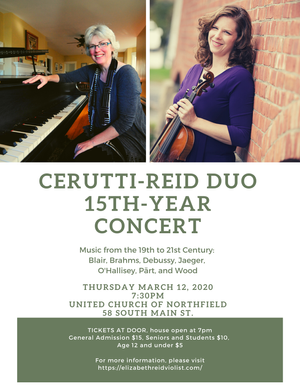 AVAILABLE FOR RECITALS AND HOUSE CONCERTS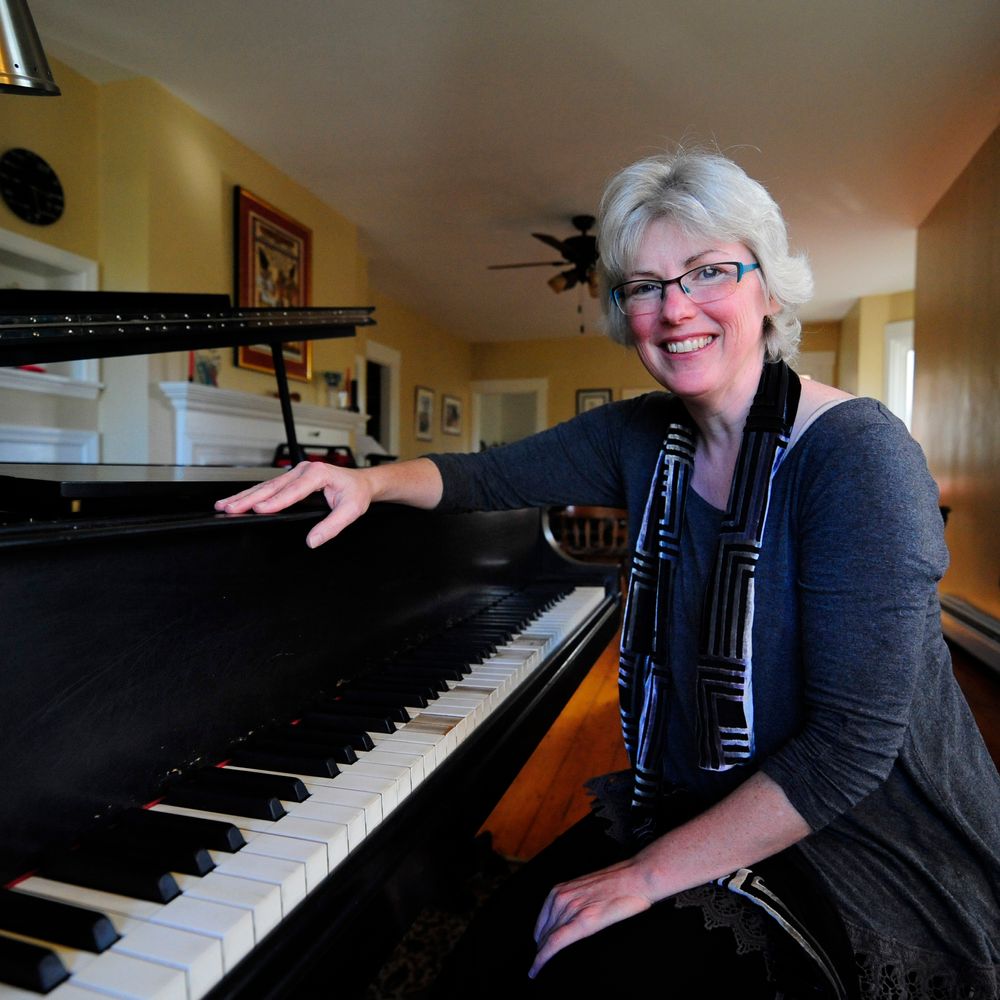 About Alison Cerutti
Pianist
Alison Cerutti has performed as a soloist and chamber musician throughout Vermont and as a flute accompanist in the U.S. and France. For eight years, she studied with Louis Moyse and accompanied his flute master classes in Vermont and France. Alison has appeared as a soloist with the Burlington Civic Symphony Orchestra and the Vermont Philharmonic. A Vermont native, she studied with Sylvia Parker and earned degrees from Oberlin Conservatory and the Hartt School. She maintains an active piano studio, and she is the pianist for the Mad River Chorale.